This herbal solution acts as fast or faster than other products and yet causes no harm to skin. EYE OF NEWT Wart and Skin Tag Solution .75 ounce tin is for multiple wart or skin anomaly applications or the convenient .07 oz. roll-up stick applicator is usually enough to treat one or two warts. The pictures show the actual day by day results using EYE OF NEWT Wart Solution on a child's wart. Please use with adult supervision.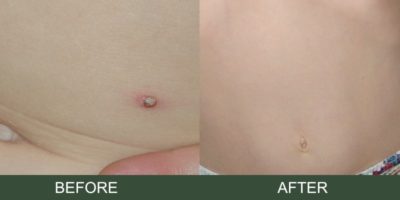 Ingredients: Coconut Oil (cocos nucifera) and Beeswax (cera Alba) Oregano Oil (thymus capitatus), Emu Oil (dromaius novaehollandiea), Celandine (chelidonium majus), Red Clover (trifolium pretense), Comfrey (symphytum officinale), Dandelion (taraxacum officinale), Mullein (verbascum thapsus), Buckthorn Bark (rhamnus cathartica), Bloodroot (sanguinaria Canadensis).
Caution: DO NOT use on genital warts. Do not apply to mucous membranes or get in eyes. Do NOT take internally. Keep away from children. Do not use if you are pregnant or nursing without consulting your physician. Have any unusual skin anomaly checked by your physician.
If redness or swelling occurs, discontinue use and contact your physician.
Warts can be contagious. Follow good hygiene rules and wash hands often to avoid contracting or spreading them. Temperature does affect the consistency of this product. Do not leave in sun or extreme heat such as a hot car, etc.
These statements have not been evaluated by the Food and Drug Administration. These products are not intended to diagnose, treat, cure, or prevent any diseases.
Product Testimonials
"My three year old had quite a large wart on her knee. I decided to try Eye of NEWT Wart Solution on it. I am a distracted working mom, so I will admit I wasn't nearly as consistent as I could have been. Still, one day my daughter came home from daycare, eager to show me that the wart had just come off! I had noticed it changing, but was quite surprised at the news!"
-Rachael W. WA
"My teenage son has had countless wart freezing treatments by his physician with little success. His physician finally gave us a referral to a dermatologist to use some sort of cancer drug to treat. I happened to see this product at the checkout of our local health food store and thought it was worth a try before exposing him to cancer drugs. Within one week of using the Eye of the Newt stick the main body of his most monsterous wart fell off. We are in the process of treating the next layer and we are feeling very confident of success this time. Amazing product."
-Anonymous